Retirement / ARFs & AMRFs
Ireland's post-retirement ARF (Approve Retirement Fund) is the envy of the Western world. The removal of the compulsory annuity purchase at retirement age has resulted in strong growth in pension schemes in Ireland . The ARF regime is available for Personal Pensions & PRSAs, Company Directors (holding 5% or more) and AVC monies.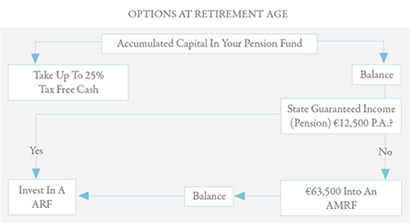 AMRF stands for Approved Minimum Retirement Fund. The capital value may not be eroded before age 75, and growth may be drawn as income in the interim
While this new regime is benefiting would-be pensioners and their families, not least in relaxed provisions where pension funds can now survive a legacy for off-spring, care is needed in the ongoing monitoring of pension funds in retirement.
Where individuals in their working lives can recoup losses and retrieve downside positions that come about as a consequence of poor investment choice or arising from bad advice or unlucky timing, a pensioner is this position is unlikely to have similar recovery opportunities. For this reason, the ARF instruments/ portfolio chosen at retirement age may well prove to be the most important financial decision that we ever face.

Past Performance Is Not A Reliable Guide To Future Performance
Moneywise Financial Planning Ltd. is Regulated By The Central Bank of Ireland
INVESTMENT OPTIONS
Property – Residential or commercial property options are available, either directly or via a pooled investment fund. Moneywise have teamed up with Harvest Investment Managers Ltd. as a Qualifying Fund Manager to facilitate clients wishing to purchase property directly.
Pooled property funds have a valuable function as part of a mixed portfolio. Can be somewhat rigid and whereas they offer attractive returns in cycles, they can lose their sheen fairly quickly, and lock-in clauses can erode values that had been in the bag.
Equity Funds – Directly linked to stock market performance, these fund are high risk and potentially high return. Current market volatility would discourage all but the faint-hearted – suited to ARFs destined for one's estate.
Own Shares Portfolio – A shares portfolio designed with a stockbroker is also an option worth exploring. Teaming up with Merrion Stcokbrokers, Moneywise offers this facility to clients looking for a more hands-on approach.
Managed Funds – Inasmuch as they comprise a broad mix of assets values again are susceptible to stock market volatility. An answer here is to locate a genuinely actively managed fund that can and will take evasive action – and now you can have equity exposure with an exit mechanism.
Protected & Smoothed Funds – These aim to afford exposure to investment growth with capital guarantees. Their origins are found in efforts to compete with "With-Profits" funds. However, they will hold a significant proportion of government stock which will restrict growth and distribution.
Cash Funds – Cash funds have proved a popular choice for some Moneywise clients, unwilling to risk any capital with this important resource.
Warning: The Value Of Your Investments Can Go Down As Well As Up
ANNUITIES
An annuity is the exchange of a pension fund for a monthly lifetime income at retirement age. The annuity rate is determined by medium-term government gilt rate, and therefore is largely determined by prevailing interest rates.
For many, but not all holders of Personal Pensions, PRSAs, AVCs and Directors' Pensions, the ARF regime is likely to appeal.
Members of Occupational Pension Schemes with more than 15 years service have no option to purchase an annuity with their pension fund.
ALL retiring employees have a legal right to shop around for the best annuity rate available in the market. As these rates change often, it would be difficult to keep this web-site up to date. The differential between the lower and higher rates are substantial over time.
If you wish to get the best annuity rate currently available, please send your contact details to alan@moneywise.ie